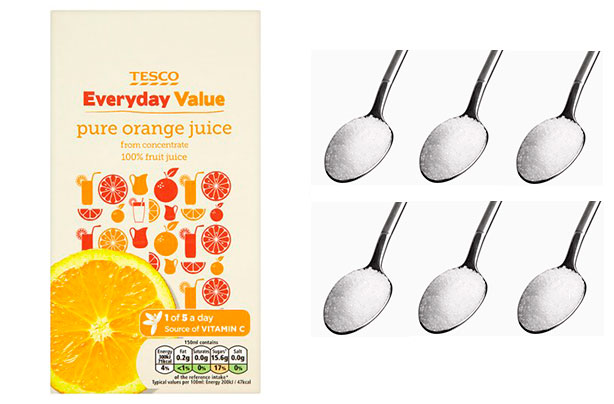 Orange juice (250ml)
Calories: 94
Sugar (g): 25
Teaspoons: 6
It would be easy to assume that fruit juice must be good for us. But, although natural, most fruit juices contain an alarming amount of sugar. On top of that,
scientists in
a recent experiment found that the type of sugar found in fruit (known as fructose) can actually make you feel hungrier quicker than glucose - and can even increasing cravings for high-calorie foods.
If you fancy a sweet treat, whole fruit is good for you as it contains much more than just fructose, including fibre, vitamins and minerals which make them a healthy alternative to foods high in added sugars and fat.
Reducing the size of your serving of juice will also cut down on your sugar intake - opt for a 150ml glass and always read the label!