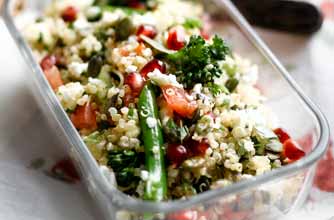 Quinoa
Quinoa means 'mother of grain', and truly, this light, fluffy food is the mother of all grains.
Cooked like rice, it's high in protein, low in carbohydrates and contains all nine (yes, nine!) essential amino acids which are simply amazing for your skin.
Quinoa is rightly known as a superfood, it's gluten-free, and just jam-packed with vitamins and minerals like magnesium, calcium and B6. Oh and did we mention Gwynnie and Jen An are huge fans of the stuff? We're sold.
Try making our
quinoa, feta and broccoli salad
.