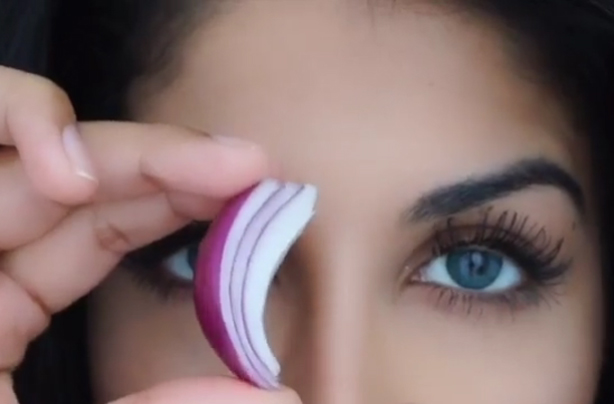 Onions for eyebrow growth
Made the mistake of overplucking your brows? Beauty blogger Farah Dhukai reckons she's found the secret to speedy regrowth - onions.
Accompanied by a video posted to her Instagram account, Farah writes 'GROW EYEBROWS FAST! Onion juice has sulphur which speeds up the growth of hair and makes it thicker. Massage onion juice on brows for 5 mins, let it dry completely, wash off with cold water or a mild cleanser. Do this everyday, careful not to get this in ur eyes!'
Onion juice has been used in a 2002 study on women with alopecia areata, and those who applied onion to their scalp rather than tap water, as the control group did, did see an improvement in regrowth - but there's no evidence to show that the juice would have a similar effect on eyebrow hair.
'Sulfur is important in hair; however, applying onion juice does not mean that the sulfur is incorporated into the hair strand,' dermatologist Dr. Kavita Mariwalla told Allure. 'Rather, the sulfur acts as a natural anti-inflammatory.'
Referring to the study, she added, 'Some of the alopecia was a result of seborrheic dermatitis that was causing inflammation on the scalp, and sulfur in the onion juice is anti and can lessen that. I don?t want people to think that putting onion juice on every day is going to suddenly give them luscious, thick brows.'
The jury's out, but as long as you don't get the onion juice in your eyes, it doesn't seem like there's any harm in testing this eyebrow growth trick.
Will you be giving it a try?
Image:
Instagram/Farah Dhukai