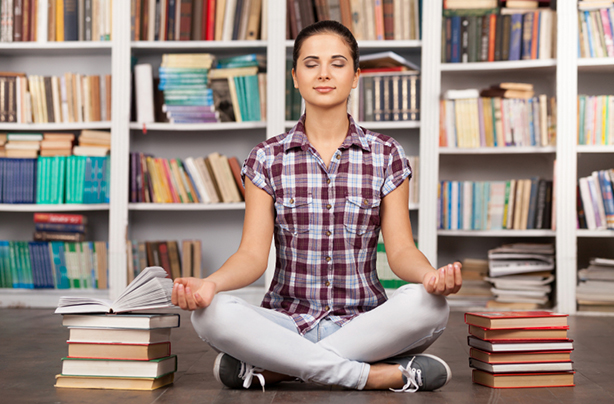 Natural remedies for anxiety: Mindfulness meditation
Taking a little time out of your day seems difficult for lots of people, especially if your anxiety is fuelled by feeling overwhelmed with what you need to achieve during the day, but mindfulness is a great natural remedy for balancing feelings of anxiety.

At first you may find it hard to concentrate but persevere and you'll be surprised at how quickly you can turn a few spare moments into a little piece of pure calm with meditation.

To meditate, choose a quiet place where you won't be disturbed. Sit in a position comfortable for you; try lying down, standing, sitting or even walking. Once you've found your ideal posture try to focus on being deeply calm and your breathing pattern. Once you feel you have settled into your meditation it's then time to examine the four foundations of mindfulness.

These are, mindfulness of the body, mindfulness of physical feelings and sensations, mindfulness of mental states and mindfulness of the consciousness.

For mindfulness of the body: Focus on each body part separately, like your head, heart, stomach, while continuing to keep your breathing deep and steady.

For mindfulness of physical feelings and sensations: Concentrate on whether what you're feeling is nice or not and mentally let go of any physical discomfort you might be feeling to reduce tension.

For mindfulness of mental states: Whatever pops into your mind, try to focus on this, whether it's dreams, memories, ideas etc. Notice what you're thinking about and if it changes quickly to something else. Keep your breathing steady and controlled, and simply give a greater consciousness to whatever seems to come into your mind during this period.

For mindfulness of the consciousness: Note if you're feeling anxious, peaceful, stressed, angry etc. If you are feeling negative energy then the skill is to concentrate on this and gradually change the state of consciousness to let go of these feelings.

It will of course take a little while to get the hang of meditation so do persevere past the first few times you try it. Even if you feel like you haven't achieved much just remember that even 10 minutes spent in quiet is good for your overall wellbeing.