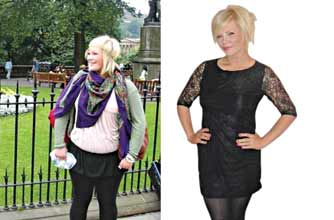 Real life weight loss stories: Samantha Yule
Then...14st 7lb
Now...9st 7lb

A diet of pizza, burgers, chips and alcohol had finally taken their toll, and, when I left uni in 2008, I was a size-18!

After uni, I'd wanted to work in fashion but, though I applied for lots of jobs, I ended up working in a bar.

Then a friend told me about Eurodiet, an online programme that she said would help me lost weight and eat healthily.

So, last May, I started Stage 1 of its four stages, with four tasty replacement meals a day - such as pancakes, omelettes, cereal bars and pasta with lots of salad and veg. I lost 1st in the first month and, by the end of November, I'd dropped four dress sizes and lost 5st! Now I'm in Stage 4 of the programme.

Best of all, with my new-found figure and confidence, I got a job as a fashion buyer last August. A real success story!