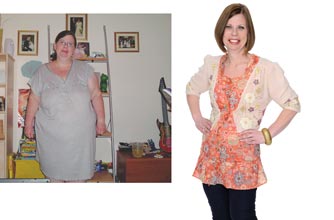 Real life weight loss stories: Sarah Gandy
Then...19st 8lb
Now...9st

I just loved food - and lots of it!

I didn't lose weight after having my two kids either and, by 2009, I was wearing a size-26!

Then my cousin started the Cambridge Weight Plan and encouraged me to give it a go.

So, in June 2009, I did. Oh, it was hard at first! Going from huge portions to replacement meals of porridge, soups, shakes and bars was a shock - but when I went for my first weigh-in, I'd lost 12lb.

Then, nine weeks in, my dad died and my first thought was to give up. But he'd been obese too, and had been worried about my weight, so I continued for him.

I'm glad I did, as after 10 months, I'd lost 10st 8lb!

My husband jokes that it's like being with another woman. And as I'm so much smaller now than when we first met, I guess he's right!