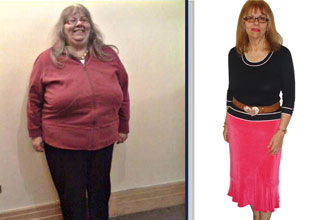 Real life weight loss stories: Kathryn Zoechild
Then...23st 7lb
Now...11st 11lb

I only went upstairs once a day, to go to bed. I was walking with a stick as I had arthritis in one of my hips, and was in constant pain. My weight wasn't helping much.

I'd comfort-eaten all my life, and tried every diet going...always ending up bigger. If things went on like this then I could end up in a wheelchair.

I had to do something drastic. So I booked a gastric bypass for March last year, but my finance didn't come through and I had to cancel.

It gave me time for a rethink, and I tried the LighterLife plan. With replacement meals of bars, soups and shakes I didn't want 'real' food!

I started in April 2010, losing 4 or 5lb a week and by this April, I'd lost nearly 12st!

I'm half the woman I was! And, best of all, I've thrown away my walking stick!