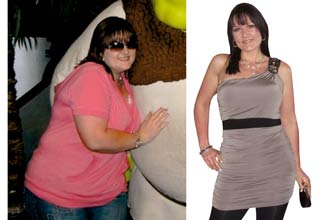 Real life weight loss stories: Hayley Hardy
Then...19st 13lb
Now...11st 13lb

The year 2006 was dreadful. My husband James was diagnosed with testicular cancer and had to have a testicle removed. Then the cancer travelled to his abdomen and he underwent three months of chemotherapy.

James was only 25, but at least our two children were too young to realise what was happening.

But we got through it (and James now has the all-clear), though the cost was our waistlines!

We'd put on weight when we met, then I had two kids and didn't lose the baby weight. And while James was ill, we found comfort in food and ended up both weighing over 19st.

I used to say I was a bad mum, as I didn't have the energy to take the kids to the park.

I also had heartburn, greasy skin and swollen feet. But it was only when I saw this photo that I saw what other see...me fat!

I joined WeightWatchers and lost 6lb in the first week, and 18 months later, I'd lost 8st.

Best of all, James did it too. He didn't come to classes, but we ate the same food and we both went to the gym.

James is now a trim 15st. Losing weight has made such a difference to how I look and my job - I now run six WeightWatchers classes of my own.

No more couch potato - I lift weights, box, cycle and run.

One day, my son said. 'Remember when you and Daddy used to be fat?' It was a wonderful moment.

This year, I'm running the 5km Race for Life twice. Once with some WeightWatcher members just for fun. And the second to better last year's time of 28 minutes. I'm hoping to raise £1000. I've got so much to be grateful for.