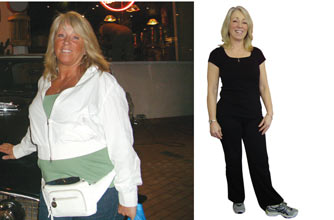 Real life weight loss stories: Jane Lewis
Then...13st 4lb
Now...9st 4lb

I'd get in from work, tired and starving hungry, and eat bread - I'd scoff a whole loaf! Then at dinner, I wasn't hungry.

In a year, I put on couple of stone and, despite working as a circuit trainer at Curves, the women-only gym, it was a case of 'do as I say not as I do'!

Then last March, I was told I'd be going on Curves Club training in June with staff from all over the country...

I started the high-protein option on the Curves Weight Management Plan, and did the 30-minute circuit training three times a week. I lost 2st before the course began and now, a year on, I've lost 4st in all.

Now I've changed the way I eat forever. At the weekend I allow myself a treat, either a pud or a drink - but not both. So best of all, I feel healthy inside as well as looking good on the outside!