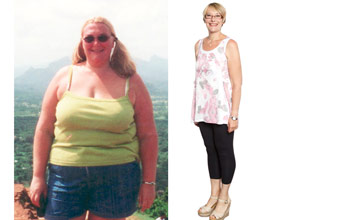 Real life weight loss stories: Alyson Yates
Then...19st
Now...10st 7lb

Phew, it was a struggle but they fitted! Trouble was, these shorts were a size-26! I stood in the changing room and cried. That was it - I had to go back to Slimming World.

In my late teens, I'd go clubbing, dance the night away and drink lager by the pint. Then I stopped dancing but continued drinking...and the weight piled on.

In the early 90s I joined Slimming World and lost a couple of stone, then thought I could do it on my own. But all the weight, and more, went back on. This time, I was determined.

I lost 6lb the first week, 2st in three months and then found out I was pregnant. But I carried on, and only put on 8lb during my pregnancy!

Now, four years on, I've lost 8 1/2st, and when I went into the changing room with a size-10 my tears were of pure pleasure!