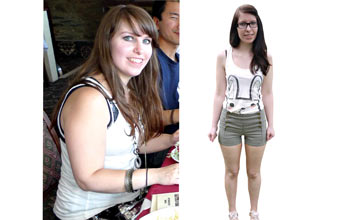 Real life weight loss stories: Catherine Sleeman
Then...11st
Now...7st 12lb

As a teenager, I'd come in from school starving and eat buttered toast - lots of it! It became a habit, the weight piled on and, as I got older, I had to admit that I was fat!

For years, I did nothing. Then last year, my mum suggested WeightWatchers.

I joined and lost a couple of stone, then got stuck and for two months, my weight stayed the same.

I'm only 5ft 1in and I was 11st. A friend suggested BIOcarb, which she said helps you lose weight by stopping your body absorbing calories from carbs.

I took two capsules with every meal and began exercising, and after four weeks, I started to lose 1lb a week without changing my diet.

Now I've reached my goal weight and soon I'm off on holiday. I'm going to be wearing a bikini for the first time ever!