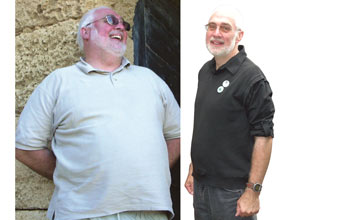 Real life weight loss stories: David Melton
Then...20st 7lb
Now...12st 7lb

Typical bloke, I'd eat whatever was put in front of me. So it was no wonder I ended up wearing XXXL size tops and 54in waist trousers!

I'd tried dieting before, but just ended up feeling irritable. But I knew I was heading into heart-attack territory.

On the Internet, I came across Herbalife. I was actually looking for a way to earn extra cash, but before I starting selling it, I needed to see if it worked...

I replaced breakfast and lunch with a shake or a mealbar, plus some fruit, and I had a healthy meal - like chicken salad - for dinner.

Nothing happened for two weeks, then the following week, I lost 4lb. Then it was 2-3lb every week.

Soon, people noticed and, a year later, I'd lost 8st. I'm now 12st 7lb and a size-32.