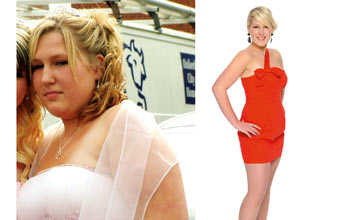 Real life weight loss stories: Amber Saunders
Then...13st 5lb
Now...10st

I was big in my teens, but my weight didn't really bother me until I left school. Then I felt that I didn't fit in.

So I joined a slimming club, and even tried a diet from my doctor - but nothing worked.

Then a pal who'd lost loads of weight mentioned the Cambridge Weight Plan, so I tried it...

I started last February and the first week I got so hungry, but I wasn't going to give in!
And it was worth it when I lost 7lb.

I'd have a shake for breakfast, porridge for lunch and healthy meal in the evening. By September I'd lost almost 3 1/2 st - and I was a size-10 for the first time ever!

These days, I follow the 80/20 rule. That means I eat healthily in the week, so I can have a guilt-free weekend treat. I must be doing it right as the weight hasn't gone back on!