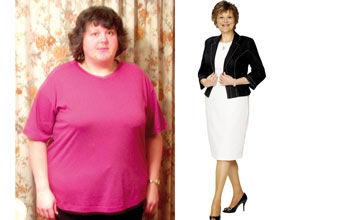 Real life weight loss stories: Heather Birks
Then...17st 3lb
Now...11st

For years I ate too much of the wrong food. Exercise? I'd rather watch TV! No wonder I weighed over 17st.

At just 5ft 6in tall, I knew I needed to lose weight, but my heart wasn't in it. Then, I had two shocks!

First, I needed a new skirt for a work do, and I had to buy a size-24! Then the doctor told me my diabetes (which I've had for years) was worse and I'd have to give myself a daily insulin jab. I hate needles!

A friend was already going to Rosemary Conley classes, and suggested I tag along. This was my chance to make a change. I started counting calories, did the weekly exercise class and lost 2lb in the first week, over 7lb in the first month, 4st in a year and, after two years, over 6st.

I only have one regret - I wish I'd done it years ago!