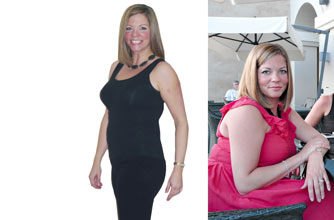 Real life weight loss stories: Heidi Maguire
Then...13st 7lb
Now...10st 7lb

After I had my son in 2009, I couldn't shift the weight. I tried a slimming club, but hated the food deprivation. Then I cut out carbs, but I ended up craving pasta!

When we went on holiday last year, I was a size-16. I felt too fat to wear my bikini and spent most of the time in a kaftan. Then I saw the photos, and knew I had to lose weight.

I asked my pharmacist for help, and he suggested Formoline, explaining it'd absorb fat from the food I eat.

I had two tablets with a healthy lunch or dinner and for three weeks nothing happened. But the next week I saw I'd lost 2lb. That continued every week, and now I've lost 3st!

With my new confidence, I've joined a gym, so I'm toning up too. We're off on holiday again soon, and this time I'll be back in my bikini!