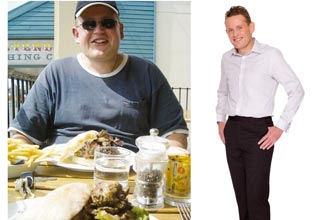 Real life weight loss stories: Mark Bull
Then...23st 7lb
Now...14st

'I'll buy your advert if you buy my diet.'

It was an offer I couldn't refuse. I was selling advertising space and by chance had cold-called a Cambridge Weight Plan Consultant. And I had loads of weight to lose!

I'd piled on 15st in 10 years, thanks to a diet of alcohol, junk food and a great social life!

In 2007, my GP warned me I needed to lose weight, so I ditched the junk food, took up walking and, in 10 months, lost 4st. But then my weight loss stopped and I wasn't sure how to kick-start it again...until I made that phone call.

In place of conventional food, I had four liquid supplements a day. I never thought I'd survive on 600 calories a day, but I did, and I was spurred on by losing almost 1st in the first week!

I went on to lose a further 6st in six months. I've now managed to maintain my weight for two years, and these days, I run rather than walk, and I've just completed my second marathon!