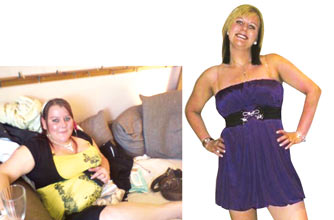 Real life weight loss stories: Tricia Hale
Then...15st 2lb
Now...10st 2lb

'It's puppy fat, you'll grow out of it,' said my mum reassuringly. I was still at primary school then, but she was wrong. I didn't!

I'd buy sweets on my way to school, choose pizza and chips for lunch - and then scoff more sweets on the way home.

My weight did bother me when I was growing up, especially when I got called names, but I thought I couldn't change it.

By the time I left school, I was a size-16, but when size-18 started to get tight, I vowed not to buy size-20 - I just wore stretchy size-18s!

Then a friend at work said she was starting at Slimming World and did I want to go too? I was terrified and excited!

But that first week, I lost 4lb! That was it. I knew I could do it. It wasn't easy - I had no clue about healthy eating! Also, I have a big appetite, but the diet worked for me as I could eat loads - inclduing my fave, jacket potatotes!

I lost 5st in just under a year. I never thought I'd know what it feels like to be slim - but I do now, and it's great!