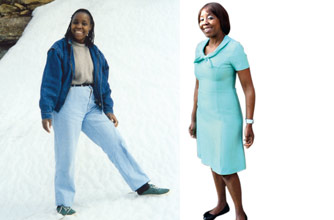 Real life weight loss stories: Judith Thornton
Then...13 1/2 st
Now...9 1/2 st

Where food is concerned, I was a human vacuum cleaner! I'd eat anything - fast food, frozen ready meals, mountains of chocolate.

Trouble was, I didn't like the person I saw in the mirror. Even walking upstairs was an effort, but when my grandson was born, I realised that if I wanted to see him grow up, I needed to lose weight and get healthy.

I'd seen Jenny Craig advertised and when I rang, was delighted to speak to a real person who was so helpful.

Portion-controlled, the replacement meals tasted great. All I had to do was add fresh vegetables and fruit.

Best of all, it was delivered to my home every four weeks. As well as eating healthily, my counsellor encouraged me to exercise every day. So, I borrowed an exercise bike, bought a treadmill and skipped. I lost 4st in six months!

Now, I can easily keep up with my grandson, and when I look in the mirror, I like what I see!