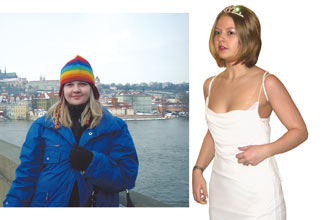 Real life weight loss stories: Diana Ennett
Then...11st 12lb
Now...10st

I was always a thin child, full of energy and able to exercise all day long.

But when I was 22, I got very depressed and was diagnosed with bipolar affective disorder. My unlimited energy was as early symptom.

I was put on medication, which, although it helped my condition, made me sleepy and hungry all the time. I put on almost 5st in six months! When my medication changed, I lost some weight, but as I was still taking the pills that made me raveneous, I started taking Zotrim - a plant-based weight-loss aid.

Within days, my appetite waned and my weight gain slowed.

When I came off the pills that made me hungry, the Zotrim really kicked in. I'm now a size-10 and shopping is joy once more!