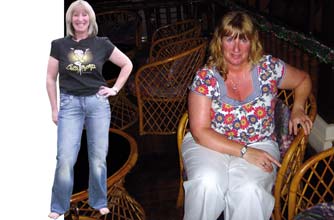 Real life weight loss stories: Gaynor Imrie
Then...15st 1lb
Now...11st 2lb

When I had to buy my third set of bike leathers in three years - in a size-18 - I knew I had to lose weight! I was eating for the sake of it and I thought, Enough is enough!

Then a friend suggested I try Rezest, a three-phase programme of supplements and healthy eating.

The first phase included using a fat-burning spray under my tongue, 14 times every morning. And after 27 days, I'd lost 22lb!

In phase two, I began to introduce different foods back into my diet. I also started exercising and soon I was wearing a size-14.

The third and final phase is the rest of your life!

I'm now making the right food choices (well, most of the time!), I do aerobics, aqua jog and swimming, and I've lost nearly 4st!

I recently bought yet another set of bike leathers - but this time in a size-12! How great is that?