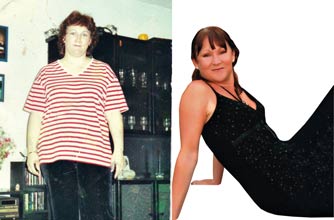 Real life weight loss stories: Barbra Eggleton
Then...14st 7lb
Now...10st 7lb

'You've bought me what?' I shrieked. 'A Wii Fit?!'

My husband Derek said he loved me whatever my size, but did he really think I was fat? I''d weighed 10st for years, but put on 4 1/2st in 1999 when I was pregnant with my daughter Nicole, and struggled to lose it afterwards. So I joined a diet club and lost a couple of stone in two years.

My husband, bless him, had bought the Wii Fit to help me lose the extra weight. Well, I reluctantly gave it a go...and loved it! I was soon using it almost every day - yoga, keep fit, and my favourite, hula hoop!

I set myself a target to lose 7lb in two months, and did it easily! So I set myself another target, and then another...

I also went back to the diet club, and with healthy eating and my daily exercise, I've lost 2 1/2st, and I've kept it off ever since!