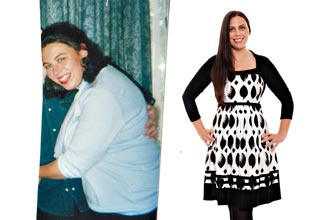 Real life weight loss stories: Deborah Mccourt
Then...15st 7lb
Now...11st 7lb

I was changing the baby on the floor, stood up and everything went black. I couldn't see the baby - terrifying! Luckily my husband who works shfits, was upstairs but I couldn't see for an hour.

I was suffering from intercranial hypertension, where the pressure of the fluid in my spine was too high. The main cause, I was told, was my size - and I could even end up blind for good.

I was put on medication, but I knew I had to lose weight.

I was big. I'd had six kids in four years, so my body never had time to recover between each pregnancy.

Then, last October, I saw a special offer to join Curves for free...so I did. And it's the best thing I've ever done!

With five of my kids at school, I leave the baby with my husband, nip to the gym for a 30-minute workout, and I'm home in an hour.

I've also been following the Curves Eating Plan, so the family enjoys low-fat versions of our favourite meals.

I joined Curves in October 2010 and lost 4st in seven months. My doc is so pleased with me, I'm off medication completely and I have a clean bill of health.