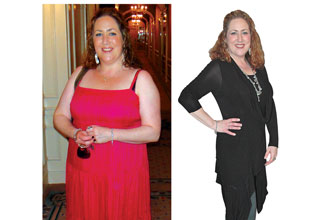 Real life weight loss stories: Alison Segal
Then...12st 3lb
Now...10st 7lb

We'd been to New York to celebrate out 10th wedding anniversary, but when we came back and I saw this photo, I was devastated!

I knew that, although I ate quite healthily, I ate way too much! A friend told me about Slimpod, a voice recording which, it's claimed, could help me to think myself slim in 10 minutes a day!

There are 15 to choose from. I downloaded Drop Two Dress Sizes and listened to it every night as I drifted off to sleep. The first week, I lost 2lb, then after that, I lost 1lb a week.

I don't quite know how it works, but I've found I'm not so hungry. I don't snack, and I've the strength to say no!

I'd like to lose another stone before I go on holiday, so I'm going to download one of the exercise Slimpods to spur me into action!