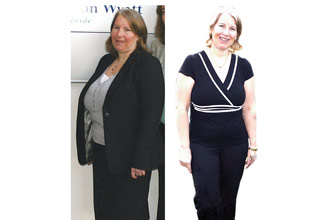 Real life weight loss stories: Tina Holah
Then...15st 11lb
Now...10st 10b

"I hated myself. I was shopping for a posh frock for a wedding when it hit me.

"I'm 5ft 2in and a size 18, and every dress I tried on made me look fat. I'd put my weight problems down to an underactive thyroid, but when my GP said my BMI was dangerously high, I had to do something.

"I started Zest4Life and, two months later, I'd lost weight, but still felt bloated.

"It was suggested I might be intolerant to some foods, so I used a home kit and found I was intolerant to cow's milk, citrus fruits and durum wheat.

"Initially, I did panic, as I love a cuppa - and pasta, too.

"But I cut them out and within weeks the weight just dropped off. My face and body has changed shape, my skin looks fantastic, and I'm brimming with conifidence.

"Now I love getting dressed up and going out!"