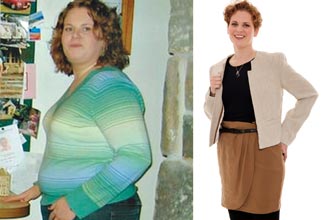 Real life weight loss stories: Becky Rush
Then...16st
Now...11st 3lb

Ever since I can remember, I've been plump. When I went to university in 1998, I was a size-18, but by the time I left, I was a size-24! Forget the student bar, I blame pasta for my downfall! It was just so quick, easy and cheap to make!

After that, I stayed the same size for years. My mum and sister were both slim - I was the fat one. I just thought that was my lot in life. But I used to go to yoga with Mum and started an aerobic class, too. But, while I was fairly fit, I never lost any weight.

Then a friend and her mum asked me if I'd like to go to Curves women-only fitness and health club with them. They really loved it - and said I would, too. So I thought, Why not? This might be a chance to lose a bit of weight after all!

On my first visit to the Curves gym, I just watched and tried out a few pieces of equipment but everyone was so friendly, I signed up for three sessions a a week - and never looked back!

Slolwy, I began to lose weight, just a couple of pounds every two or three weeks. Then, after a year, I began a weight-management programme that really kick-started my weight loss.

I still go to Curves three times a week, usually first thing. The half-hour session fits in with my lifestyle and it's a brilliant way to start my day!

In 2 1/2 years I've lost 4st 11lb and I'm now a size 12/14. My aim is to get below 11st and lose 5st in total.

Now, I love shopping as I can buy whatever I want! I used to be fairly fit and fat, but now I'm super fat and slim! It certainly worked for me...