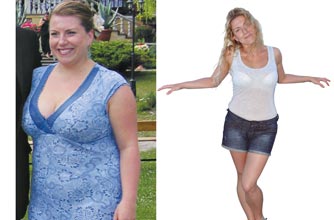 Real life weight loss stories: Ola Krzyzewksa
Then...14st 7lb
Now...10st 9lb

We had a holiday booked and I wanted to get slimmer and fitter. My trouble was that I liked food - lots of it. I was a big eater!

Last year, I started going to the gym and, with a combination of the Dukan diet and Cabbage Soup Diet, I lost nearly 3st. But it took a long time, and I was so bored with being good! I missed all the foods I really liked.

My weight-loss stalled. I wanted to lose more, but I couldn't bear the thought of another diet.

I read about FULLfast, a spray that claimed to stop craving and help you feel fuller. So I gave it a go.

Nothing happened for four days then, on the fifth day, I realised I didn't feel as hungry. I'd also lost my mid-afternoon sweets craving! I lost 12lb in the next four weeks.

I've stopped using the spray now. I'm eating less - and I haven't put any weight back on. I got into my holiday bikini, too. Happy days!