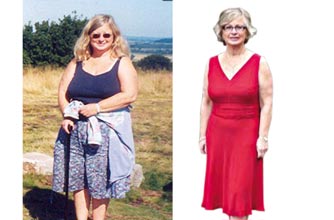 Real life weight loss stories: Janet Brooks
Then...14st 9lb
Now...9st 9lb

I was slim until I had kids - four in 10 years. Each time I ended up bigger than when I'd started!

Then last year I had to go to the doctor with a thyroid problem. Blood tests showed that I was pre-diabetic. If I didn't lose weight, I'd be on insulin for the rest of my life.

I'd seen the Tony Ferguson Weightloss Programme in my local Boots, so I decided to try it.

With a shake or bar for breakfast and lunch, plus fruit in the day, veg with lunch and a carb-free dinner, I lost 7lb in the first week and 5-st in eight months.

The shakes fill you up and, if I was peckish, I'd have a bowl of sugar-free jelly or a glass of water.

I used to go to Boots for a weekly weigh-in, and there's an online forum where, if you have a problem, someone answers in just a few minutes. I'm the smallest I've been in decades...and it feels great!