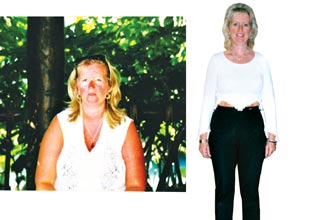 Real weight loss stories: Kim Day
Then...14st 2lb
Now...9st 6lb

Like lots of working mums, my weight got out of control when I had my two children. After complicated pregnancies, I was put on steroids for four years, and ended up a size-22!

A friend, whose wife had lost 4st, told me about Howard's Way weight-loss programme.
Highly sceptical, I was sure it wouldn't work, and that I'd get the shakes from lack of food.

But though the first three days were hard, after that, my energy skyrocketed and the weight just fell off me.

I had chocolate shakes, plus 4 litres of water a day, and nothing else! In 16 weeks, I lost 4st 10lb and reached my goal of wearing a size-12.

I've since learnt what kinds of food I need to keep me on track. And if I put any weight back on, I can go back to Howard's Way for a bit. I'll never let my weight get out of control again!