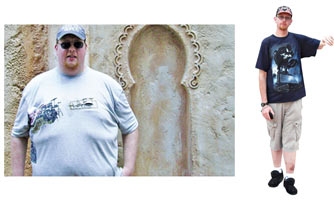 Real life weight loss stories: Paul Cook
Then...30st
Then...12st 3lb
Lost...15st

'Hey, wait for me!' It was Easter 2009 and I was walking around the track at Brands Hatch with a bunch of mates, but I couldn't keep up, and they left me behind. I had to lose weight!

I started putting on weight when I was 12. I used to snack on crisps, chocolate and fizzy drinks. Over the next 16 years, I kept on getting bigger, until I was wearing 48-in waist trousers!

I'd decided to lose weight, and I bought the home-fitness programme EA Sports Active 2 to use on my Wii.

The first day, I tried a gentle 20-minute workout, but I was so unfit that after six minutes, I had to have a sit-down on the settee!

But after using it every day for two weeks, I'd lost 2lb. I also started to eat sensibly and in nine months, lost 15st - half my weight!

I still work out every day - but on the hardest levels. I've got masses of energy and no-one leaves me behind any more!