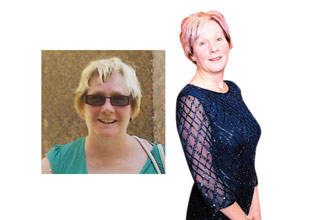 Real life weight loss stories: Penny Morris
Then...13st 1lb
Now...9st 13lb

'I'm going to join Slimming World,' said my friend Zoe. 'I'll go with you,' I said.

I knew she really wanted to go, I was only going as support.

Not that I didn't need to lose weight! I've always had to watch what I eat, and I'd been slowly getting heavier for years.

I put it down to the good life - eating too much, enjoying a few drinks, and always driving, never walking.

At my first meeting none of it made any sense to me, but I went along with it and, a week later, I'd lost 5lb!

Well that was it, I was 100 percent committed. Along with sensible eating, I walk everywhere. I run up the stairs at work, do yoga and Pilates. I've lost over 3st in just five months, and I feel great.

Now when I wear my size-8 jeans and I'm told that I look amazing, I'm absolutely thrilled to bits!