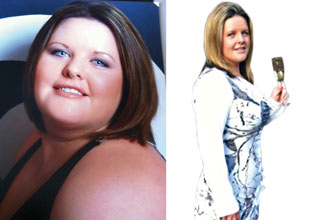 Real life weight loss stories: Natalie Fitzgerald
Then...17st 7lb
Now...12st 2lb

My sister and I were at a wedding fayre. 'Hey, look sis!' I said. 'We could have your hen party at a GI Jane Bootcamp!'

My sister thought it was a daft idea, but I quite fancied it and picked up a brochure.

Back home, I went online and signed up for a week's course. Back then, I was a size-22. I'd put on weight when I was in a relationship, but when it started to go wrong, I just ate more to comfort myself.

But I loved bootcamp! Even with big marines waking me up early, making me go on long walks and lift weights, I couldn't keep the smile off my face! The food was good, I made great friends and I lost 7lb. I came back inspired. It was the push I needed to join a diet club. Now I've lost 5st, chucked in my old job and, this summer, I'm working in sunny Spain!