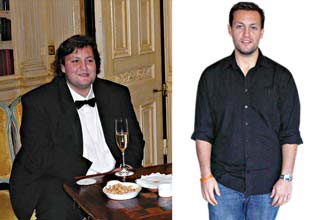 Real life weight loss stories: Jason Blott
Then...25st 7lb
Now...12st 7lb

I was tired, both physically and mentally. Tired of my thighs chaffing, of sweating all the time and worrying about exposing a builder's bum because I couldn't find trousers that wouldn't fall down with a belt! I was only 25 - and exhausted!

At 13, I was 13st, and my weight kept pace with my age until I was 25. I scoffed crisps and chocolate secretly as a child and, as I got older, my whole day revolved around eating.

I'd tried losing weight before, but then my mum more or less frog-marched me to a Sure Slim clinic! As the consultant explained how it worked, I realised I'd eaten more in the last 24 hours than most folk eat in a week!

I was given a tailor-made diet - good, healthy, portion-controlled food. And I stuck to it. I lost 12lb in the first week, 10lb in the second. It took 12 years to put it on but in 12 months I lost 12 1/2st! Now I'm literally half the man I was - and it feels good!