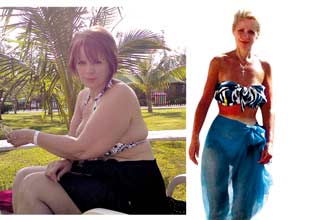 Real life weight loss stories: Mandy Scott
Then...14st 4lb
Now...8st 4lb

It was my husband's 50th birthday and everyone was dressed up to the nines - except me. I wore size-20 trousers and a shapeless black cardi, hoping no-one would notice me. How could I have let myself go like this?

One day, out shopping, I saw a display for LighterLife. I went over for a chat and came away with leaflets, yet still I did nothing!

Finally, in April last year, I went for an assessment with LighterLife. After the go-ahead from my GP, I gave up my usual food and, in its place, had four choices from shakes, soup, porridge and bars.

It took a few days to get used to it, but then I never looked back! I lost 1st in the first two weeks, and 6st in seven months!

I feel fab! I love being slim, and my husband tells everyone he's got a new bird! In a couple of months, I'll celebrate my 50th. And, at this birthday bash, I'll be fit, not fat!