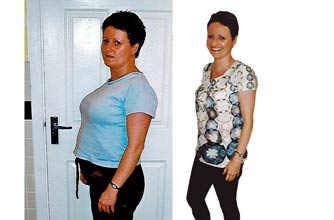 Real life weight loss stories: Sam Boyd
Then...10st 2lb
Now...7st 6lb

My father-in-law was diagnosed with throat cancer in 2007, and given just months to live.

That year, I ran the Race for Life to raise money for Cancer Research. I say 'ran' - I managed to get around in 42 minutes!

Sadly, my father-in-law died after six months. I also had a friend die at just 31 from non-Hodgkin lymphoma, leaving two children.

The two deaths made me think about my own mortality and while there are some things we have no control over, I could do something about my weight.

I'm 5ft and my waist was 37in! So I bought a Rosemary Conley book, and, with her plan, lost 9lb in two weeks.

I joined a Rosemary Conley class and in six months, I'd lost over 2 1/2 st - and am now a size-8.

I still run Race for Life and last year did it in 31 minutes.

I'm also training for a marathon this October. But thinking of the people I've lost and how brave they were, motivates me to stay on track.