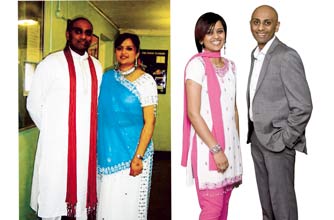 Real life weight loss stories: Varsha and Harish Vagadia
Then: Varsha... 16st 9lb, Harish... 20st
Now: Varsha... 11st, Harish... 12st 7lb

"We live with my in-laws and my mother-in-law is a wonderful cook - curries, roti, chappatis, all cooked in ghee!

"I was slim until I had my first baby, but while I was pregnant, I ate for two, and put on lots of weight. I never lost it either!

"By the time my second child was 3, I was size 22 and 16st 9lb. I wasn't alone - my husband Harish was getting bigger, too.

"When a friend told me about LighterLife, I mentioned it to Harish, and he said, 'Well make sure you stick to it this time!' Right, I thought, I'll show you - and that made me more determined to succeed.

"With four choices a day of porridge, soup, milkshake or a protein bar, I lost 11lbs in the first week. But it was tough for the first 3 days as I had headaches caused by carbohydrate withdrawal.

"I also found it hard cooking for the children - I'd send them to my mother's for dinner!

"I carried on losing around 4-5lbs a week. After 6 months, I'd reached my goal weight.

"Then Harish also started LighterLife. But he hit his target in just over 5 months - that's men for you!

"Now, I use olive oil in place of ghee, I grill rather than fry, and we eat much less than we did before!

"My mother-in-law might not be ready to hang up her frying pan just yet, but she enjoys my new, healthier recipes!"

Harish says: "When I saw how successful Varsha was, I decided to give it a go. Now my kids love their new slim mummy and daddy and no longer tease me about my weight. The downside is that I've had to buy a whole new wardrobe!"