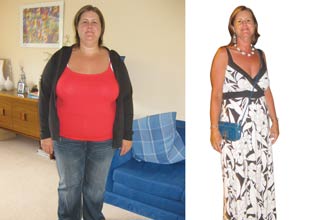 Real life weight loss stories: Andrea North
Then...17 1/2st
Now...9 1/2st

I'd been in denial about my weight, but when I saw my holiday photos, I knew I had to do somethng about it!

It didn't help that I loved my grub, and my favourite thing ever was chocolate...

When I heard about LighterLife I knew it was what I needed. The good thing for me was that the only decision I had to make was what items to eat from porridge, shakes, soups or a bar.

It wasn't easy at first, but I'm very focused and knew that I'd succeed!

Best of all, I lost 7lb the first week - and then an average of 3lb a week. I lost 8st to reach my goal in just 10 months.



I did Pilates to help tone my body, and these days I do lots of exercise.



To celebrate my weight loss, I went mountain climbing in Majorca with my dad, something I could never have done before!