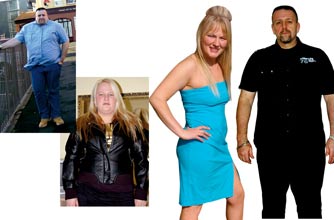 Real life weight loss stories: Amanda Dickens and Paul Clark
Then: Amanda... 15st 10lb, Paul... 27st 8lb
Now: Amanda... 9st 13lb, Paul... 20st 4lb

"I was so jealous. Paul's sister had signed him up for a 12-week weight-loss challenge wtih Herbalife, but not me! Like a lot of couples, we were happy and complacent. We ate and drank lots and at first didn't worry that we were piling on the pounds.

"We ate badly. Takeaways, pizza, biscuits - and, my favourite - doughnuts. I'd get them on special offer and scoff a whole packet one after the other!

"Then Paul's weight started to get him down. He stopped wanting to go out with me. So he was ready for this Herbalife challenge - and he lost 20lbs in 12 weeks. Then I signed us both up for another 12 weeks.

"The first week, I lost 11lbs! Then an average of 3lbs a week. It took me a year to reach my target. I'll never go back to my old ways.

"Paul also bought me a dog so we had an excuse to go for a walk. At first we struggled just to make it around the block - but now we walk miles!

"But without doubt, the best thing about us both losing weight is that I've got my partner back. Since Paul's lost over 7st, his confidence has rocketed.

Paul says: "Words can't explain how fantastic it feels to have lost weight. I feel I've got my life back and now have a sense of purpose and direction I wish I'd done it years ago."