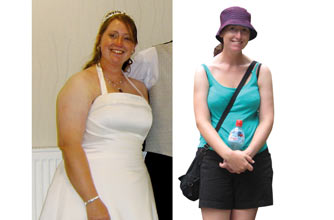 Real life weight loss stories: Jennifer Seymour
Then...16st
Now...10st 3lb

It was during uni that the weight piled on. My eating habits had already changed when I moved into digs, but then my beloved gran pased away from bone cancer...

I was devastated and found comfort in snacking - cakes, biscuits, crisps....and my favourite, a sharing bag of Minstrels that I didn't share!

I'd known my husband since I was 18, and he loved me whatever my size, and when we got marrried in June 2006, my wedding dress was a size-22.

But those wedding photos made me want to lose weight! So I joined a gym and started to eat healthily.

In a year, I'd lost over 2st. I then joined Slimming World and, nine months later, I'd lost over 5st in total.

I've run the 5km Race for Life every year since 2003 in memory of my gran.

My best time is 26 minutes. But now I'm a mum to Thomas, 10 months, I'm not training as hard, so anything under 30 minutes will do this year.

Gran's my motivation. She was a fighter and thinking of her inspires me to run because of the courage she showed in battling her cancer.