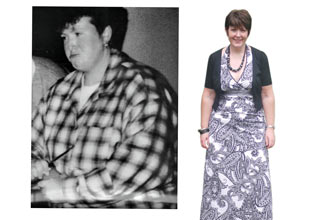 Real life weight loss stories: Gabby Harris
Then...19st 7lb
Now...11st 7lb

In December 1999, my sister said she was getting married the next summer. I was a size-26 - so I had good reason to lose weight. On 1 January 2000, I thought, New Millennium, new me!

Trouble was, I cooked for my kids, but worked full-time, and it was easier to grab a takeaway for me. Chinese, Indian, fish and chips...

So I started to prepare healthy meals and cut down on portion sizes. By the wedding, I'd lost 4 1/2 stone and was a size-16.

Afterwards, my reason for losing weight had gone, but in 2006, I decided to lose weight and keep it off.

In the May, I joined a gym, though it took me ages to pluck up the courage. I soon realised no-one cares what you look like and that it's essential for your health to exercise.

I'd go before work and a couple of evenings, too. I've now lost 8st in all and for the first time ever I'm a size-12. And I plan to stay that way!