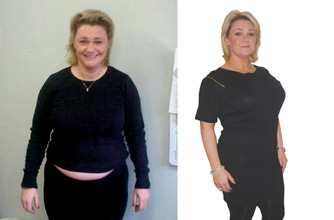 Real life weight loss stories: Tara Stewart
Then...13st 7lb
Now...9st 13lb

I used to swear that clothes sizes were getting smaller, but I knew I was fooling myself! I never did any exercise. I'd skip breakfast and eat chocolate and crisps mid-morning, and it was much simpler to buy a takeaway than cook.

Then I saw a photo of me at a mate's 30th birthday and couldn't deny any longer how big I'd got!

That was last November...Come New Year, I began to eat healthily, I joined a gym and started to take a supplement - Capsiplex. I'd read that it could make you lose weight just sitting at your desk!

I took it half an hour before exercise. It seemed to help - in the first 10 days of taking it, I lost 11lb! And I've now lost over 3 1/2 st.

I've always been busty and my boobs have stayed the same size. My mates say I'm like Dolly Parton now! Still, I don't mind, as these days I'm just really proud of my fabulous new figure!