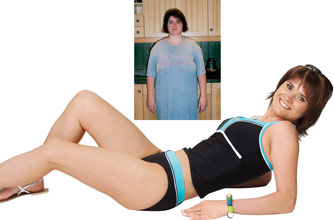 Real life weight loss stories: Jo Butcher
Then...13st 9lb
Now...8st 9lb

She's fat! I thought. It took me a minute to realise I was staring in a changing-room mirror!

I blame chocolate. My mum left when I was seven, and chocolate made things feel better. Trouble was my dad owned a corner shop so it was too easy to get!

I'd tried to diet, but never taken it seriously. I especially hated exercise - but knew I had to get moving to lose weight.

That's why I started at Rosemary Conley in January 2007. With sensible eating and an aerobic class, the pounds dropped off me.

I lost a stone in four weeks, and when I went on holiday in the June, I'd lost 4st and bought my first ever bikini. Six months earlier, I'd been a size-20!

When I came back, I lost another stone - 5 st in all - and it's the most uplifting feeling ever!