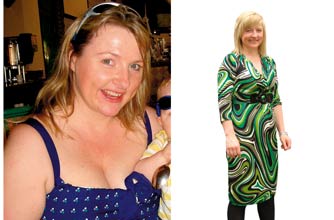 Real life weight loss stories: Sharon May
Then...14st 12lb
Now...11st 1lb

What the heck! I thought, tucking into another packet of crisps, followed by a cheese baguette.

After all, I was pregnant. During the pregnancy, I put on over 3st and instead of losing it after, I put on more.

Then, one day, I'd strewn all my clothes across the bedroom - nothing fitted! But I wanted to be a yummy mummy not a fat one.

I decided to try Diet Chef, where everything's delivered to your door. It leaves little room to cheat, and all I had to do was add veg, heat and eat it.

I wasn't expecting it to taste good - but it did! And, used to big portions, I also thought I'd be hungry - but I wasn't.

I lost 5lb the first week and 3lb in the second and third weeks! In seven months I've lost almost 4st and everyone says I look great!

I've found out I'm pregnant again, but now I'm a yummy mummy - and I plan to stay that way!