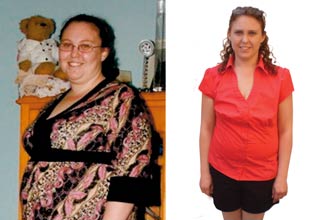 Real life weight loss stories: Kat Baistow
Then...14st 13lb
Now...9st 11lb

'Ditch the weight or you'll end up like your dad,' my GP said.

My dad was overweight and had just been diagnosed with Type-2 diabetes. The doctor prescribed me appetite suppressants. They worked, but when I stopped taking them I put the weight straight back...and more!

I'd started getting big after a knee op in 2002 stopped me exercising. But once I was back on my feet, I still never exercised!

I was also finishing work at midnight, and there was fast-food galore on the way home! I was living in Australia then, but in April 2009 I moved to the UK, and started an Avon round. I was walking every day and started to lose weight...

Then I got a busy cleaning job and in a year I lost 5st. As well as Avon, I'm also a nanny now and running after a 5-year-old sure burns off calories!