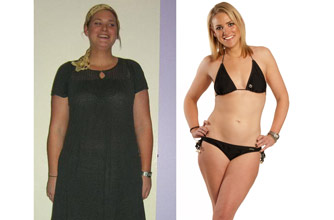 Real weight loss stories: Nicola Stanley
Then...14st
Now...11st

'You're really fat!' said my nana, bluntly.

Not exactly the welcome I'd been after when I'd gone home to see my folks in South Africa, but there was no denying that nana was right!

I used to swim for South Africa and was so slim. Then illness put me out of the squad and I started to put on weight in my teens.

But it was when I came to live in the UK in 2008 that my weight exploded. Working long hours, partying and eating fast food soon took its toll and, a year on, I was the biggest I'd ever been. Then when a colleague lost 5st on the Cambridge Weight Plan, I decided to join up, too.

I ate shakes, bars and soups and, though it took a lot of willpower, I lost 2st in two months. I left it for a few months, then went back on the plan and lost another stone.

So thanks, Nana. Your blunt words mean I'm happier than ever!