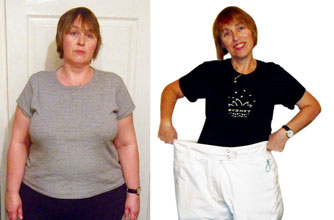 Real life weight loss stories: Angie Foskett
Then...16st
Now...9st 7lb

I'd always had aching joints, but one day my foot gave way! I knew my weight was to blame.

That was in October 2008, and we were due to to go to Lapland. So I dieted and lost 1st, but my size-20 skiing gear was still tight!

Because I had a lot to lose, I chose the Cambridge Weight Plan. It was so hard at first, but after two weeks, it got easier. I'd have a shake for breakfast, a bar for lunch, and soup in the evening. In nine months I'd lost 6 1/2 stone.

I never once cheated, but when I cooked my family a roast once, I cried upstairs while they ate it.

Now I eat healthily and exercise daily. Plus, we went back to Lapland and my new size-10 ski gear was roomy!