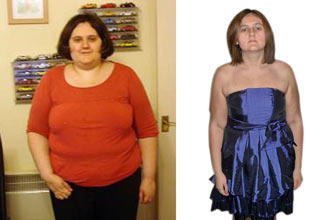 Real life weight loss stories: Vicky Martin
Then...17st 12lb
Now...10st 121b

Takeaways have a lot to answer for! I started gaining weight when I was 18, the same time as I starting going out. Along with booze came pizzas, burgers and kebabs!

When I got married in 2006 I was 15 stone, but we started eating takeaways at least three times a week - two years later I weighed 17st 12lb.

A friend of mine went to Weight Watchers so I tagged along - being an accountant, I liked the idea of counting points!

I soon learnt healthy eating habits and I joined a gym. Slowly but surely I lost weight and this February I reached my goal having shed 7 stone!

I thought I had no willpower, but I was wrong. I still eat healthily and exercise. I see it as a lifestyle change, not a diet, and I won't go back to being a size 24...