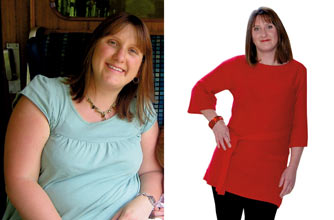 Real life weight loss stories: Michele Fairhall
When I had my first child six years ago, I only put on 2 stone and got my figure back in three months with exercise and healthy eating.

Second time around, I wasn't so lucky. Two years ago, when I was pregnant again, I piled on 2 1/2 stone during the pregnancy and another 1 1/2 stone after!

I was struggling with my weight when a friend told me about Fulfull Plus, a slimming product that makes you feel full.

I was a bit sceptical, but I started taking three capsules with a glass of water before each main meal. On the second day, I had my usual pasta salad for lunch and after I'd eaten just half, I felt satisfied.

So I started having smaller poritions and the first week I lost around 4lb, then it steadied to between 2-3lb a week.

Four months on and I'd lost 4 1/2 stone and I feel like I've got the old me back again!