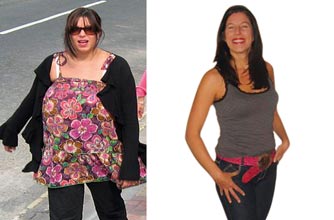 Real life weight loss stories: Jane Bizley
Then...14st 8lb
Now...10st 9lb

I joined WeightWatchers 15 years ago, lost 4st in seven months and kept it off for 14 years.

Then in August 2007, I found out I was pregnant, and rewarded myself with treats. But they turned into binges, and by the middle of my pregnancy, I'd eat four iced Belgian buns a day, burgers and chips and toast until I was stuffed!

Six weeks after I had my little girl I weighed 14st 8lb. So it was back to WeightWatchers!
I went every week, and also started walking miles with the buggy.

Slowly the weight came off and I got to my original goal weight just before last Christmas - a great present!

I returned to work in May, and have to avoid the temptation of the biscuit tin, not to mention the cakes on birthdays. But now I'm strong enough to resist!

I still count my points religiously and watch what I eat. Now I'm slim - and I'm determined to stay that way.