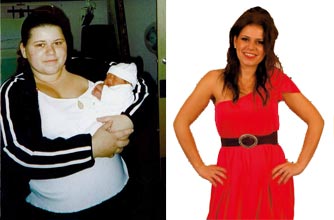 Real life weight loss stories: Heidi Mitchell
I put on 3st when I was pregnant with my first child, and that made me 19st - my heaviest ever! I was told I was too fat to go into labour and I had to have a C-section instead.

I was devastated, and vowed that I'd lose weight so that next time I could give birth naturally. I started by cutting out bread and pasta, and I began to eat a lot more fruit and veg. It worked and the weight began to fly off. I dropped a dress size in just a few weeks!

I couldn't afford to go to the gym, so instead I bought a pile of workout DVDs and used them when my baby was napping!

After a year, I'd lost over 4st, and the weight loss really slowed down. But I needed to lose more! That's when I started to take Perfect 10, a natural green-tea supplement that boosts your metabolism.

It comes with an online programme so I could keep a check of my weight and what I was eating. This was just the kick-start I needed. In another year, I'd reached my goal weight and lost 9st 11lb - over half my original body weight!

Just after, I fell pregnant again, but this time I put on much less weight and gave birth naturally!