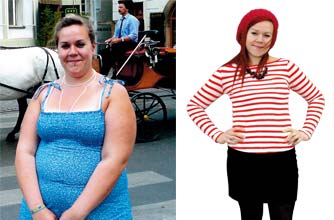 Real life weight loss stories: Emily Hewkin
Then...17st 6lb
Now...10st 12lb

'Sorry, you'll have to get off, you're too fat!' I was on a rollercoaster with mates and the safety bar wouldn't go down. I ran off in floods of tears.

I'd been a chubby child, but had piled on weight in 2002 when my mum was ill. I comfort-ate packets of biscuits, burgers, chips, the lot. I just couldn't stop despite being told by my doctor that I had high blood pressure and that I needed to lose some weight.

It was only when I came home from holiday and saw this photo that I knew I had to do something about it. My dress was a nice colour, but it was shapeless, and like all my clothes, elasticated!

I hated it. So I joined Slimming World, a mate of mine was already going and I lost 8lb the first week! Unbelievable really, as I was actually eating more than I used to and even chocolate and alcohol weren't off limits!

It took me just over a year and a half to lose 6st 8lb and get to my goal weight. But now my blood pressure is normal and I can wear what I like - everything in every shop now fits me! So no more elastic waistbands for me ever!